It's quite interesting to know what a teenager, and especially a girl, think today about the three musketeers:
The Three Musketeers by Alexandre Dumas
I find the title of this book a little deceiving; it should really be called "D'Artagnan and the Three Musketeers", because the story is actually about a young Gascon man named D'Artagnan. The Musketeers are only his friends. They are certainly very amusing friends. Anyone who has read this book will never forget Arimis, Porthos, and Athos, their unique personalities, or the scrapes they all get each other in and out of. The two downsides to this book I found was that it started out rather slow (but then again, most old books do), and that there are places where one plot ends and you wonder where the next one will begin? This made more sense when I learned that this, like many books of it's time, started out as installments in a newspaper. The characters' way of looking at women and their relationships with them also caught me off guard; this story takes place in a time where marriage was not regarded as much. In fact, it seems that if one fell in love with a married woman it only made the romance more exciting! Of course, because this is a comedy first and foremost, nothing serious or objectionable ever happens. All they do is visit each other in the middle of the night and exchange handkerchiefs. Despite these things, however, I ended up loving this book. Adventure after adventure, characters that become your best friends… you can't get much better. It's huge; it took me a long time, it sometimes made me roll my eyes, but it also made me laugh, sometimes even out loud, and it made me hold my breath in suspense; especially at the end. I would definitely recommend this book for high-school students, though it would be too much for most middle-schoolers. My favorite character would have to be Athos; I will forever remember the picnic in the fort tower. But you will have to read the book to figure out what I'm talking about! Then you can come back here and tell me who your favorite character is!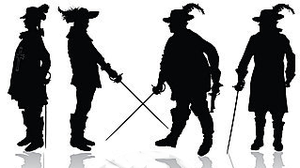 http://preciousspices.wordpress.com/2013/06/25/a-review-on-the-tree-musketeers/